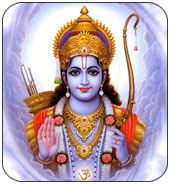 The following Shri Ram Prashna Shalaka has been taken from the holy book Shri Ram Charit Manas written by the great legendry Indian poet Tulsidas. In the following square each letter or the part of the letter gives birth to a couplet. The couplet is formed by combining every 9th letter from any fixed letter. The couplet thus formed has a meaning of it which answer your question.

All you have to do is just click on any of the letters in the boxes with closed eyes and remembering Lord Rama by heart. For the best answer of your question you should have only closed ended question in your mind.

Its all about faith in the almighty and faith is tested for only once. So try to avoid the verification by repeating the process time and again. You can take these words for caution. Now go ahead with your luck and ask your questions, now.